INDO-US BUSINESS
The recent visit of Indian Prime Minister Narendra Modi to the United States marks a new beginning in Indo-US relations. The meet, as expected, saw a warm welcome from US President Barrack Obama which was equally reciprocated by the Indian PM. The high-powered meetings spread over four days covered a wide range of issues with the decision makers in both government and large industrial and business corporations. The Indian Prime Minister reiterated India's commitment to strengthen the existing strategic partnership between the two nations and assured the US that the bottlenecks blocking the progress would be removed.

---
INDO-CANADIAN BUSINESS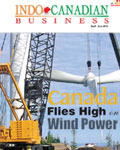 The seventh round of negotiations towards a canada-india comprehensive partnership agreement (CEPA) took place in february this year in New Delhi.This was announced by the Honourable Ed Fast, Canadian Minister of International Trade and Minister for the Asia-Pacific Gateway.

---
INDO-LAC BUSINESS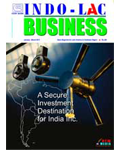 A Bilingual magazine INDO-LAC business was launched in partnership with Export-Import Bank of India, the country's Government-owned and most prestigious financial institution promoting bilateral trade. Most countries in the Latin American and the Caribbean region, which have long suffered under despotic military regimes for decades, have now returned to democratic rule. The resource-rich region is now looking for partners in progress, such as India. Opportunities that exist between India and the LAC region are immense.
Rightly recognizing the region's potential, the Ministry of Commerce, Government of India, launched the 'Focus LAC initiative' a few years ago. New Media, in association with Export-Import Bank of India, entered this niche bilateral trade area by bringing out Indo-LAC Business magazine. The magazine highlights opportunities in trade and industry between India, Latin America and the Caribbean countries that include the emerging economies such as Brazil, Argentina, Chile and Venezuela among others. The proximity of the LAC region to the United States and Canada opens further vistas of business avenues for India. From this point of view, Indo-LAC Business has bright future.

---
INDO-AFRICAN BUSINESS
Africa, once termed a dark continent is today a vibrant region, pulsating with entrepreneurial energy. India has had centuries of trading relationship with Africa because of the proximity between the two. Today, after regional feuds and wars, the region is at last at peace with itself.
The continent offers every raw material that India needs – from diamonds to gold, oil & gas to various minerals and metals. And India has the technology that Africa needs – Appropriate, Accessible and Affordable. The bilingual magazine in English & French was launched to supplement the efforts of FOCUS AFRICA programme of Ministry of Commerce.

---
INDO-CIS BUSINESS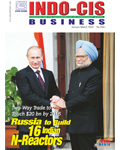 The magazine was launched in partnership with Export-Import Bank of India. The emergence of the new Russia in 1991 has drastically altered the equations of trade between India and the countries of the USSR. The newly democratized nations of the region, now known as the Commonwealth of Independent states or CIS, are now bubbling with a new-found energy. These countries are also rich in energy such as oil & gas and minerals such as uranium. These newly globalised economies, thanks to their reforms offer , huge markets to Indian pharmaceuticals and other allied products and act as gateways to Europe.
Indo-CIS Business rightly looks at these bilateral trade opportunities between India and the CIS nations, taking advantage of the 'FOCUS CIS programme' patronized by the Ministry of Commerce, Government of India. The magazine is distributed in India and across the CIS region.

---
INDO-SWISS BUSINESS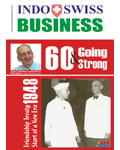 India and Switzerland have over six decades of business association. Swiss companies have provided technology and machinery to India in its initial stages of development. Swiss firms such as Nestle and Novartis are as Indian as they are Swiss. Their indigenization is total. Today, the countries are trading as equal partners in progress. Switzerland has emerged as an ideal investment destination for Indian companies keen on making their presence felt in Europe.
INDO SWISS BUSINESS magazine is published in association with Swiss Business Hub , a member-business network, Switzerland, under the patronage of the Swiss Consulate, Mumbai. The magazine is distributed in India and Switzerland.

---
INDO-AUSTRALIAN BUSINESS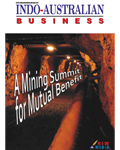 The magazine was launched in partnership with AUSTRADE and WATO (Western Australian Trade Organization).Australia is fast emerging as one of the most important trading partners of India. Australia is bestowed with enormous amounts of energy resources, minerals and agricultural produce. Bilateral trade between the two countries is today at an all time high. Indian companies are investing in Australia's oil & gas sector. Australian companies in turn are investing in Indian mines and minerals sector. Growth prospects for two-way investment flow are unlimited.
Indo-Australian Business has been serving the business needs of entrepreneurs as well as promoting governmental efforts at boosting bilateral trade. The magazine is distributed in India and Australia among the business communities, diplomats, government officials and decision makers.

---
INDO-ISRAELI BUSINESS
Since India and Israel established full diplomatic ties in 1992, great progress has been made in many areas of collaboration. These include irrigation and water management (where Israel has made immense technological breakthroughs), defence, science and technology, among many others. The Indo-Israeli Business seeks to facilitate interaction amongst the officials and businessmen of the two countries, in order to further boost bilateral trade. It covers all areas of bilateral trade, including emerging sectors or potential areas of collaboration.
The magazine is published in partnership with the Consulate General of Israel, Mumbai.

---
OPEN TRADE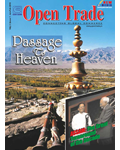 Published in association with the Trade Commissioners' Forum, Mumbai, Open Trade reflects the spirit of globalization. Representing as many as 25 countries, it focuses on the economic growth and co-operation among the TCF member countries. The relevance of a magazine such as Open Trade has never been felt so strongly as now when the economies of developed nations are reeling under recession. It is now left to countries such as India, China, Brazil and South Africa to provide solutions that can withstand the impact of the current global meltdown.
Open Trade is distributed among all the 25 TCF member countries.

---
Asian Nuclear Energy
Irrespective of the shock waves created by a disaster at the Fukushima nuclear plant in Japan, nuclear energy generation across the globe is unaffected. In fact, in India, nuclear energy received a new lease of life, thanks to the revival of the country's civilian nuclear cooperation agreement with the United States.